Starting an online business has never been so easy. But to grow and thrive a successful online business that makes consistent money required hard work, patience and quite a lot of premium tools. Read this article to get access to 13 premium tools for completely FREE.
All you need is to sign up for the DREAM, PLAN and Achieve Giveaway hosted by my friend Lynette at Thrive Anywhere.
Remember, the best things in life are actually FREE!
---
Disclaimers- This post contains FREE gifts and Printable downloads that I personally love and use. These are affiliate links. Please know that all Gifts are FREE until the day they are made available by the creator of these printables. You may get an additional offer from the creator of the printable or gift, which is completely optional. You DO NOT need to purchase anything. But, if you do decide to use my links to download the gifts and also purchase additional products or courses, I will get a small commission to promote the handwork of the creator, at no extra cost to you.
---
DREAM, PLAN and ACHIEVE GIVEAWAY
This giveaway is currently undergoing, and it will end on April 12, 2021. So hurry to grab it now.
Like I mentioned at first, starting an online business is very easy. You do not need to invest thousands of dollars, make a physical product, hire a lot of employees, pay for their insurance, pay for the physical office and all that comes with that office. It is a completely lean way to increase your income. All you need is a good teacher or a mentor who will guide you thought the maze of information available for FREE.
Remember, not everything you get free online is worth wasting your time. Stick with the valuable information from already successful entrepreneurs. You do not want to make the most common mistakes that everyone makes when they are starting out in the online business world. Trust me, when I say everyone makes mistakes and that's how most people learn. And that's how you will learn too. But the smart way of earning money consistently from your online business is to avoid the most common mistakes and stick with the great lessons learned by your predecessors in this space.
Lynette Chandler is a self-taught artist, marketer, and full stack developer. She is a successful online business owner since 2000. During this time, she has achieved many wins, and experienced bitter losses. In that time, she's also seen many people, techniques and fads come and go. Having re-started & pivoted many times, she knows exactly what it is like to start fresh, stay stuck, win and everything in between. With the help of a few friends, Lynette is eager to help you start, re-start and finally move past your roadblocks.
She and her good friends, also successful in their own businesses are offering 13 Premium Tools From Experienced Entrepreneurs To Help You Start & Grow Your Business Now FREE!
I personally have been using the resources from many of these wonderful creators since starting this website and my other online ventures. Cindy Bidar, Tracy & Susanne of Piggy Makes Bank, Kelly McCausey, Diana Heuser, and of course Lynette are my go-to people for motivation, technical, and marketing help.
Cindy has an excellent course in this bundle.
1. Back to Basics: An Online Business Start-Up Plan
This is a great starter plan for those of you who are hesitant to take a plunge to start your online business. Cindy helps you create a customized plan for your online business success with this take-you-by-the-hand course that walks you through every step from choosing a business model to crafting a profitable marketing strategy. This course itself (Usually $97 value)is the massive value from this giveaway.
Cindy's monthly membership called Six Figure Systems, is a serious go to tool of many successful entrepreneurs. I have personally got her The reason that I listen to Cindy is simple: she is seriously making bank (in excess of $20k per month) and that is where I intend to be by the end of 2024!
Are you like me who have a million ideas in the mind every day but none of them get materialized unless I follow through on them for consistently long period? Well, it's a good thing. Having ideas is a very good thing. But, if you have more ideas than the time to execute them, you will find this course helpful. In this course KELLY MCCAUSEY shares how she rock multiple ideas without letting balls drop or long term profits suffer! And she really does have multiple sources of income from those simple ideas. The value of this course is $97.
3. How to Create an Online Store
Now, once you have prioritized those ideas that Kelly teaches you, DIANA HEUSER will share how to get your online store up and running in a step-by-step guided workbook and action plan. She makes it incredible easier to create an online store. I personally love her printables and journal store. I have got many of them myself for personal and commercial use. You will have to normally spend $47 for learning how to do this but she is kindly offering this course for FREE in this giveaway.
4. 10 Easy Steps to Get Clients
Once you have your online store set up, you will need to work a little harder to get your first 10 clients. In this ebook, Cindy Holbrook will teach you
how to position yourself as the expert authority from the second your ideal client sees you.
Generate content that provides value, is educational and entertaining to build a strong rapport and nurture a real relationship.
Create a thriving business full of your ideal clients that purchase your products and services, become raving fans and promote you to all of their friends.
5. How to Market for Small Business
Wow, that sounds such great progress. When you get your first 10 clients, all you need is to shift to the next gear and get your online marketing in place. every successful business owner knows the value of marketing, so much so that they spend 80% of their time and energy on marketing and 20% on creating products.
Now all that is ok if you don't want to get into online business but just want to start a local small business? Connie Green teaches you exactly that in this highly valuable course worth $799. Small businesses everywhere need your help and are willing to pay you well for this! You'll learn how to "Make the Phone Ring" as a local business consultant.
She has also included a special gift- RAFFLE ENTRY FOR A CHANCE TO WIN CONNIE'S Fall Jump Start 10 Week Intensive, a $999 value. Work closely with Connie during the Fall of 2021 mentoring program. If you want to grow your business exponentially and know that mentoring with someone who's been successful in her own right, as well as with mentoring others is exactly what you need, this is for you!
Nothing beats working with Connie directly. Remember do not lose the focus of online marketing yet. It is still important for your business even if it's only local. The world is getting smaller, and you can reach out to a lot of potential customers who can travel to your location or would be happy to pay for your amazing products, if you harness the power of internet marketing in your business model.
6. Unshakeable Self Confidence
If you follow above 5 courses, you will notice that slowly, but surely you are progressing towards a good monthly income. You will come at a point where you might question is this is all real. If by any chance you come across the hurdle ( and you will get them quite often if you are like me), you will need to work on building your self -confidence to sustain and not give up on yourself or even others.
Because, many times, you may have to work with people around you who need help trusting you or working with you. And sometimes, they have the ability to bring us down by just being you know -who they are. We can't change who they are, but we can change how we look at them for the way they are and find a workaround without losing our sanity. Oh boy, I have too much to say on this topic. I wonder why. You guessed it right. I've my own challenges, but I'm planning to work on them.
When such a time comes, Stacey Myers will spend an hour with you to find out why you are so worried about what other people think of you and what to do about it. She'll help you uncover the real reason you stay stuck and how you can finally feel confident in your decisions. By the end of this training, you'll have the self-confidence you admire so much in other people.
She has also included a RAFFLE ENTRY FOR A CHANCE TO WIN STACEY'S…
Self Confidence Coaching, a $200 value. Meet privately with Stacey for 60 minute coaching call where she will help you gain confidence in any area of your life.
7. Building a Successful Business While Still Enjoying Your Life
After you have worked on the mindset ( Well, its never done and done really). But let us see once you have passed the hurdle of confidence doubt, my favorite content creators Tracy and Suzzana from PIGGY MAKES BANK will teach you how to build a business that works with your goals and supports your lifestyle.
They wrote the guide they wished they had read before starting out. A little prep work and thinking about what you want and how you can get it will go a long way towards helping you succeed.
BONUS- Look out for their speical gift once you download the ebook. It comes with the PLR rights, that means you can edit it, add your own experiences, make it truly yours and sell it to others. Best gift ever! Thank you Tracy and Suzzana.
8. The Easy Emails Bundle
If you have come this far, you have also heard that "Money is in the List". What is this list everyone and their grandma ( well not your grandma if she is living a healthy life away from the emails like mine) but you get the point. Email marketing is the biggest piece of the online business model. In fact, its the heart of every successful online business.
In this course, Jennifer shares the first step in adding consistency to nurturing your email list. She is giving you 52 Reasons to Email your List with strategic promotional content, her Top 100 Subject Lines and her Monthly Email planner with 365+ more ideas so that you will never be without a reason to email your list ever again.
She has also included a RAFFLE ENTRY FOR A CHANCE TO WIN JENNIFER'S Email Soft-selling Workshop, a $497 value. In this workshop, you are going to: Write compelling and powerful emails that engage and converts into clients.​ Eliminate the top 3 excuses from emailing your list and instead look forward to writing your next email.
9. Learn the Secret Language of Money Video Course
If you are like me who cringe at sending marketing emails to your readers, you will learn some golden nuggets of earning Benjamins in this course. I do not mind sending emails to friends and family any emails including the funny cat videos, but when it comes to sending an email that includes something to buy in them, I am that cat!
So, I'm going to jump on this video course by SHEILA NETTI. In this course you will learn the 5 Crucial Steps to Making Your Financial Dreams a Reality. You will understand the strategies that will allow you to create a powerful relationship with money, unlock your ability to take control of your money and open your mind to the opportunities to generate true wealth.
This course also includes a RAFFLE ENTRY FOR A CHANCE TO WIN JENNIFER'S Email Soft-selling Workshop, a $497 value. In this workshop, you are going to: Write compelling and powerful emails that engage and converts into clients.​ Eliminate the top 3 excuses from emailing your list and instead look forward to writing your next email.
10. The Plan To Profit Bundle
Once you have all the essentials in place, you will have to create some good digital products fast. I persoanlly love the ebooks and courses as a consumer or a student but I cant bring msyelf up to wrote a 200 page ebook or a 4 hours ecourse without fainting multiple times. Again, it's more to do with my camera hestitation than the skills. Pinky promise.
So, if you are like me ( And hope you are not), low content digital products are the savior of the day. They are so easy to make. Now what is low content? It is eactly that. Low content. No pun intended.
They include simple journals, printables, workbooks and graphics. I love them so much that within a few months of starting this blog, I created multiple low content digital products and put them on sale here under the shop.
Check out my shop here.
In this bundle giveaway, my favorite low content creator MELODY WIGDAHL is giving away her "Biz In A Box" Bundle. It takes you or your clients along a guided path to profits in their business with 3 unique products:
Plan to Profit (planner),
Journal to Profit (journal) and
Lead to Profit (a mini-planner lead magnet to build your list!). Full Commercial Use rights!
PLUS two $25 coupons for any other PLR products from her shop!
RAFFLE ENTRY FOR A CHANCE TO WIN MELODY'S $100 Credit Towards Any Current or Future products From PLRofTheMonth.Club, a $100 value. Win $100 in non-expiring credits to be used towards any current or future products from our site, PLRoftheMonth.Club. Credits will never expire and may be used for any products!
11. A Month of She Journals Club
At some point, you will notice this online business venture is quite interesting and motivating as you will see the returns of your hardwork in short amoutn of time. Only, if you put int he consistent work at the right places. During these times, you may feel lonly, especially sitting behind the computer for so long. When that times comes, you will crave connecting with like-minded entreprenuers.
Trust me, you will anyway feel like connecting to others, irrespective of starting a business. We are all social beings and this Covid19 pandemic is working against us making us social distance for the virus that is treatable with good health protocol and early treatment. Anyhow, I digress again!
In the She Journals Club organized by ROSIE BATTISTA, you'll meet other amazing women, build friendships and those powerful connections you need to truly thrive in life!Just meeting these women, you will
Gain clarity on your situations and your life.
Lower your stress, improve your sleep and connect to deeper parts of you.
You'll get answers and discover things you never took the time to consider which can lead you to create a life and business you love!
Rosie has also included a RAFFLE ENTRY FOR A CHANCE TO WIN ROSIE's Silver is Gold 30 Day Journal, a $27 value. This Silver is Gold Journal is perfect for those on entering the best half of their life, A pretty journal with 8 bonus video interviews of women sharing the wisdom of their life journey. (Winners outside of the US will receive digital copy of Journal).
12. Viral Visibility Roadmap For Success
After doing a consisten, well thoughtout work on building your online business, there is a likely chance that one of your product, an article or a pin may get more traction on Google or social media. When that happens, you need to make use of this viral visibility to grow your business. Otherwise, you may get huge interest in your online business for a short duration after the viral visibility but it may soon fade away in the fast changing internet marketing world.
LYNDSEY FOX offers this course just for those situations. Those situations can come any time, like when you are away on family vacation or sleeping blissfully at night. So, in this course, you will discover how to deploy the easiest visibility strategy to grow your business and most importantly, how you can easily maintain it so that your audience are seeing you everywhere (and think you're working!) even when you're actually taking time off (and not burning out!).
I like the sound of that. Less work, more results. Don't you?
Lyndsey also included a RAFFLE ENTRY FOR A CHANCE TO WIN her 30 Day Extended Premium Trial To Collaboration Nation, a $97 value. Kickstart your viral visibility strategy by meeting new potential partners as part of our Collaboration Nation community. As a Premium member you will be get a private 30 minute call with Lyndsey herself who will personally introduce you to the right people to help you!
And finally, Lynette the owner of Thrive anaywhere is offering her 12 month weekly marketing planner template in Canva for tie ll the moving pieces together.
Many entrepreneurs focus too much time on product creation. Without marketing, the best products go nowhere. This planner prompts you to plan marketing into your day – everyday. Use it intentionally and watch your business grow. Comes with commercial use license.This is a BONUS.
When you participate in this giveaway, please get to know these creators and their work. They in turn offer a tone of advice and free resources to get started with your own online business in simple steps.
Additional prizes for tools
BONUS- During this time, Lynette and a few others are offering spectacular prizes that will help you get started or grow your business. When you join this giveaway, you'll get access to all the tools above without payment…
They are
Pageable- Build fast landing pages. 1 Year's Enhanced Plan for 3 lucky winners
ProWritingAid- Grammer checker tool- 1 Year's Subscription for 3 lucky winners
Affinity Designer- Vector & raster design tool- 1 License Key for 3 lucky winners
Affinity Photo- Professional photo editing tool- 1 License Key for 3 lucky winners
Affinity Publisher- Next-gen publishing app- 1 License Key for 3 lucky winners
In conclusion,
Lynetter has really thought though well in this giveaway. It includes all the basics and advanced tools you will ever need to start and grow your online business successfully.
Give them a try and apply them in your business. Time to start a business is now.
---
This article first published on
Consciousdebtfreelife.com
If you enjoyed this article, please consider sharing it on your favorite social media platforms. It will make my day. Thank you!
This article is proofread by Prowriting Aid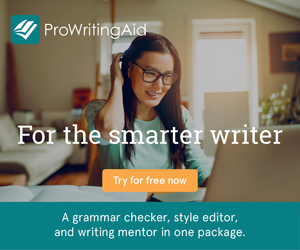 ---